How to complete steps 1 through 8 of the Profile Progress section.
The Profile Progress section is located on the Video Profile page. To locate this page, select the Portfolio tab on the left hand main navigation bar and then click on the title of the video you would like to view.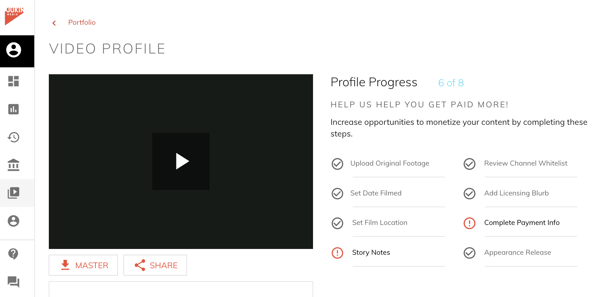 For more information on how to complete each of the Profile Progress steps, please review the help center articles below:
Upload Original Footage: Instructions
Film Date, Location, & Story Notes: If you did not provide this information to us earlier, you can update this by sending an email to Partner Support. Please include your video's film date, the city in which it took place, and/or any additional background information you'd like to share with our clients, and our team will update those details in your video file for you!
Review Channel Whitelist: To submit your personal social media accounts for whitelisting, please go to the "Video Details" page via the "Portfolio" tab of your dashboard. Here, under the "Social" tab, you can submit your social media handles for our Copyright team to whitelist so you are clear for posting.
Add Licensing Blurb: Learn more about the licensing blurb step here.
Complete Payment Info: Navigate to the Payment Info page of your dashboard. Once here, fill in all your contact, payment, and tax information until you reach the "Done" page.
Appearance Release: If there are any humans appearing in your video, please have them fill out an appearance release form so that we may have full clearance on your clip when pitching it to clients. This step is very important to increase your video's opportunity for profit and licensing revenue! You can obtain this form by contacting partnersupport@jukinmedia.com with your Jukin video (JV) reference number.