Information on how to find your Jukin Licensing Blurb and where to display it.
The Licensing Blurb is a statement containing Jukin Media's contact information. This information helps notify potential clients that you are partnered with Jukin.
We recommend adding this information in the description or comments section anywhere your video is posted on social media to help facilitate licensing negotiations and prevent copyright infringement.
To locate the unique Licensing Blurb and link for your video:
1. Select Portfolio from the left-hand side navigation menu

2. On the Portfolio page, click on the Video Title of the clip that you would like to update
3. Scroll down the Video Profile page until you spot the Licensing Blurb section on the right-hand side
4. Copy the text highlighted in light blue -- this is your video's unique licensing link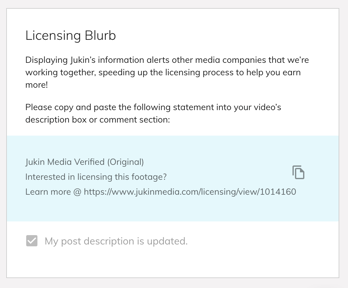 5. If your video is uploaded to any social media sites, please paste the licensing text in the video's description box or comment sections.
If this step is complete, you will see a check mark on the Video Detail page, under the Profile Progress section: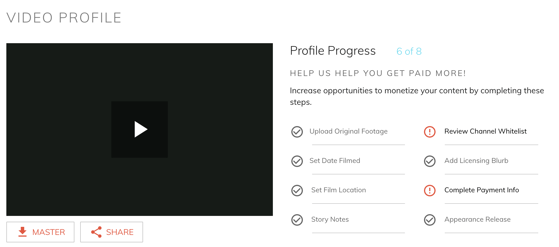 Tip: You may also want to save the Licensing Blurb to send in response to any companies or pages that ask you permission to share or feature your partnered video!