Information on how to complete the tax form: US taxpayers and non-US citizens.
In order to comply with U.S. law and for you to receive payment, we need to collect your taxpayer information.
You can find out which tax form to complete by clicking "Start the tax form questionnaire" on the Tax Form page. You may also consult the IRS website for additional guidance on the W-9 and W-8 forms.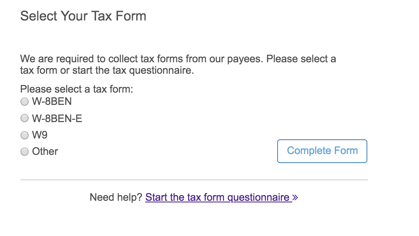 US Tax Payer: W-9 Tax Form
If you are a US taxpayer, you will want to submit the W-9. For instructions on completing this form, please see our FAQ article, the W-9 Tax Form (for US taxpayers).
Non-US Residents: W-8 Tax Form
For non-US residents, you will most likely want to select the W-8BEN. Please see our FAQ article, the W-8BEN Tax Form (for non-US residents), for help completing this form.

Please note: we are not able to give advice on how or when you should file your taxes. We recommend that you contact a tax professional with any questions.