Instructions on how to complete, view, edit, & update your payment details.
Once you have registered for an account using the email associated with your video contract, you can edit your Payment Method any time by logging in and going to the Payment Portal.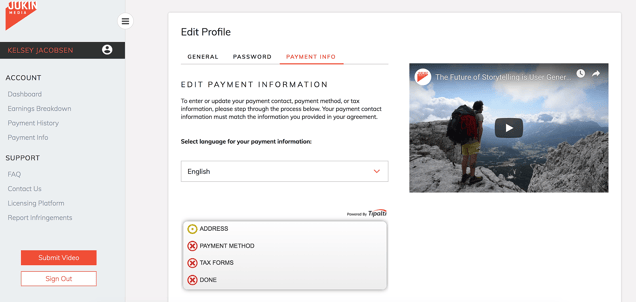 You can also access the Payment Portal by clicking on Payment Info tab on the sidebar under the Account section.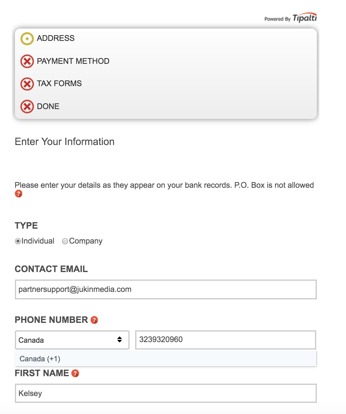 On the first Address page, please select the Individual circle, unless you are completing your tax forms under a Company.
Enter the Contact Email that you want to receive payment updates to. While it does not need to match your dashboard login email, we recommend that you keep these emails the same.
Select your Phone Number area code by selecting your Country from the drop down menu. ***If you are Canadian, please select Canada and not the United States in this section.
Enter your Name and Address details as they appear on your bank records. P.O. Boxes are not allowed.
Please note, this form is case sensitive. For example, if you enter your name as "ricky Martin," you must enter is again as "ricky Martin" on the Tax Form page.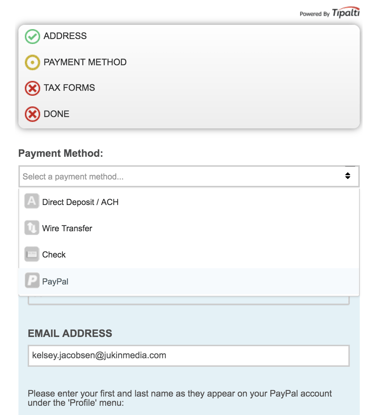 After completing your Address details, click "Next" to bring you to the Payment Method page.
Select your preferred payment method from the dropdown box. Some methods may not be available depending on the country that you reside. We highly recommend PayPal as it is the option that processes the quickest.
Please see our FAQ article, Payment Method Fees, for a breakdown of the fees associated with each payment type.
Once you have completed the necessary information for your preferred method, click the red "Next" button to move to the Tax Forms page.
If you have questions on which tax form is best for you and to complete the next step in the Payment Portal process, please see our FAQ article, What tax form do I fill out?
Security of your information:
Jukin has partnered with Tipalti, a secure third party payments provider, to collect and store personally identifiable information from users. When you submit your payment and taxpayer information, it goes directly to their system which is SOC2 compliant certified for user data.