How to use the Search tool to find content in our licensing library.
Jukin Media's search tool learns the more you use it and your engagement is the most powerful way to inform results. Search the Jukin Media licensing library for clips that best fit your needs!
If you have been a user with Jukin previously, please clear your cache for best results out of our new and improved search function.
To ensure you always receive the best results, by default search results are presented by relevance.
---
Autocomplete
Receive instant results with each keystroke when typing your query in any search bar on the site.
Features: Query suggestions and Search History.
Autocomplete presents query options as you type.
See your recent search history while you're typing; click the X to clear your history.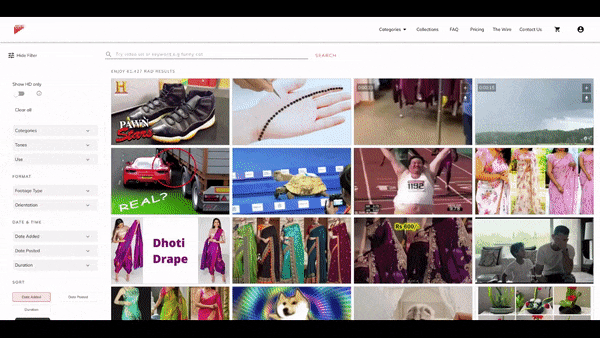 Thumbnails
The new search results thumbnails are loaded with functionality!
Features: Autoplay, Play/Pause, Download Preview, Add to Playlist, and View Video Details.
To view actions, title & duration hover over the thumbnail.
Hovering over the thumbnail will also trigger the video to autoplay. Click the thumbnail to pause or play the video after autoplay has started.
To add video to playlist, click the '+' icon. When selected, the add to playlist popup appears.
To download preview, click the download icon. When selected, the file downloads to your desktop.
Click on the video title to view video details.
Facets
Filter by: Categories, Tones, type of licensing Use, Footage Type, filming Orientation, Date & Time, and Duration.
When a filter is applied, a numeric indicator appears on the facet to show that it's active.

Hit the Clear All button to remove any previous filters set to start over and run a new search.

The filters dropdown appears when facets are applied. You may also remove filters by selecting Clear All from the dropdown.
Click the X in the search bar to remove the query.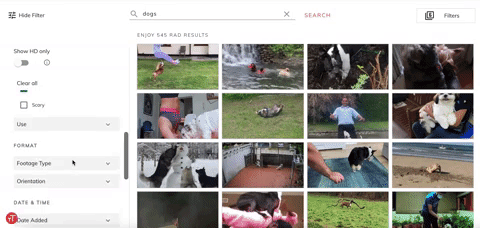 Select the Show HD only filter at the top to remove any clips that do not meet the minimum height and width definitions.
Check the boxes to include a filter or select 'exclude' on the right side to remove items from the search results.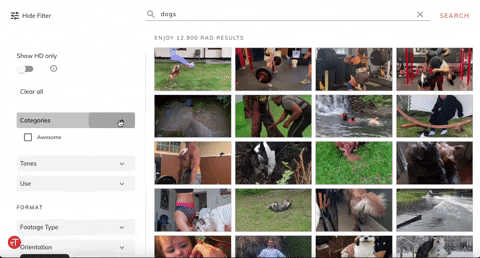 Categories
| | | |
| --- | --- | --- |
| Art | Awesome | Crashes |
| Crime | Cute | DIY |
| Fails | Family | Fitness |
| Food | Humor | Lifestyle |
| Nature | Newsworthy | Paranormal |
| Parenting | Pets | Sports |
| Talent | Travel | Uplifting |
| Travel | Weather | Wildlife |
Tones
| | | |
| --- | --- | --- |
| Cringe | Cute | Funny |
| Heartwarming | Sad | Scary |
Use
| | | |
| --- | --- | --- |
| Advertising Use | Not Advertising Use | |
Footage Type
| | | |
| --- | --- | --- |
| Dashboard | Drone | POV |
| Security Cam | | |
Filming Orientation
Date & Time
| | | |
| --- | --- | --- |
| Date Added | Date Posted | Duration |
Set start date / time.
Set end date / time.
Set both start & end date / time.
Sorts
Apply additional sorts to your results including:
Date Added [default]
Date Posted
Duration
Additional display options may be applied to your results including:
Ascending
Descending [default]
We hope you enjoy our updated Search tool and please reach out to our team at licensing@jukinmedia.com if you have any questions, we are always happy to help.
Happy Searching!
🔎